Unlike many restaurants, the Texas Roadhouse is not as meticulously clean as we would prefer but it is incredibly popular and there are always lots of people there. At your table, a bag of free peanuts awaits you; that is definitely a first.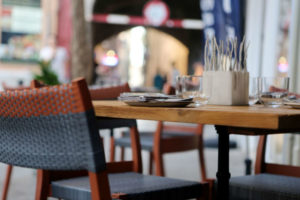 Most people, if not all, agree that the customer service is exceptional. The staff does a fantastic job attending to its customers in a friendly and prompt way. One customer even talks about how a waiter paid for her meal; talk about rare occurrences. Occasionally, the staff line would jump into song and dance, if someone is having a birthday.
Save for the hot dogs and the kids' mac and cheese, they boast of making all their delicacies from scratch; right down to the bacon bits, dressing, and salad croutons. Their steak and ribs are amazing if popular opinion is anything to go by. Hand cut steaks are the primary focus on the menu; it is, after all, a steak house. The steak is so tender that you don't need a knife.
The menu also has salads, burgers, ribs and other country style dishes. The burgers are quite popular for many customers who frequent this joint. They rolls and herbed butter they bring to start you off are delicious. For a restaurant chain, the burgers aren't bad, but they sure can be made better. Some of the dishes, we dare say, come close to homemade. Generally, the food is decent and sold at affordable prices.
The ambiance of the place screams entertainment and has a family-friendly atmosphere; this is excellent for those family Sundays. The seating is also comfortable which helps you enjoy your food and any sporting events displayed on the big screens. The restaurant is a bit loud which may not sit well with you if you were hoping for a quiet time; probably why the music is a tad too loud as well.
We don't know about all of the restaurants but the one on Mountain Road could be cleaner. The restrooms smell of stale urine and there is so much grease on the floor in the kitchen and being tracked out into the dining area that we had to walk carefully on our way to the restroom to make sure we didn't slip and fall. And its not like we are on canes and walkers.
Restaurant chains aren't some people's cup of tea, but this one might just change your mind. We think it makes a strong impression, but if they are lax on cleanliness in some areas, it makes us a bit nervous as to where else they might be lax. However, the food is tasty and they give plentiful portions.